INDOOR SKIING AND SNOWBOARDING
Important Booking Information:
Our schedule is currently booked through early March. Please check the availability calendar before purchasing your package.
Important COVID19 Update:
Please wear a mask at all times and observe 6 feet of social distancing. Group lessons must be from the same household. All other lessons must be booked and billed as a private. Lessons are available every other hour to allow us to sanitize between students. Please limit extra spectators to 2.
Year 'round indoor skiing and snowboarding for the Mid-Atlantic Region!
Check out our lesson packages for adults and kids. From private to small group sessions, there is something for everyone...
Inside Ski is for everyone!
Get ready for the season! Improve your skills, or try a new sport! This is for all ability levels.
And most importantly — it's FUN!
Year Round
Our climate-controlled facility allows you to enjoy the sport all year.
Close to Home
Our location is easy to get to from Rt. 7 and the Dulles Greenway.

All Abilities
From your very first ski or snowboard experience to expert level conditioning.

Affordable
Package pricing for affordable lessons and training. No lift ticket to purchase and rentals are included.
THE INSIDE SKI ESSENTIALS
We are bringing the international phenomena of indoor skiing and snowboarding to the Mid-Atlantic region of the U.S.! From first timers to expert skiers and snowboarders, INSIDE SKI will help you learn, improve, and practice in a fun and safe environment. All of our instructors are PSIA / AASI ski and snowboard instructors that also work at our local ski resorts.

Save Time!
Fast-paced learning with immediate feedback from your instructor and the mirror.
One hour lesson can accomplish what a half-day group lesson can achieve on snow.
Perfect your boot fit BEFORE you hit the slopes.
Close to home - less travel time.
Optimize your vacation time by improving your skills and fitness level at home.
Save Money!
No lift ticket to buy, rentals are included.
Save on gas and expensive meals.
Discounts are available on multi-lesson packages.
From private lessons to group family sessions, we have something that works best for you.
Get in Shape!
A complete, sport-specific workout in a short session.
Get ready for your big trip.
Perfect for preseason race training.
Great rehab after an injury.
A great way to have fun with your friends and family.
There is no such thing as "the off-season" here.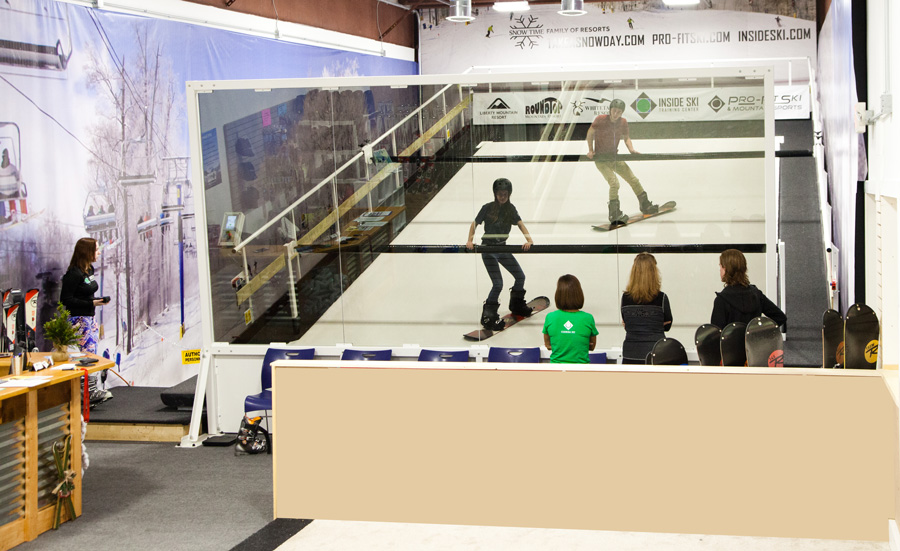 How Does it Work?
The upward revolving surface simulates the slope that slides underneath you, like a treadmill. With variable pitch and speed, the slope can be tailored to the ability of the skiers or boarders on the slope. A support bar at the bottom of the slope offers stability and confidence for less experienced students. A large mirror at the base of the slope gives you real-time feedback.
Packages and Pricing
Check out our lesson packages for adults and kids. From private to small family group sessions, there is something for everyone.